Automatic ink supply system
---
The paint is stored in 25 l or 200 l material containers. The system can also be adapted to other container sizes.
For easy changing of the material containers, the equipment is positioned on lifting devices.
The paint is conveyed to the pick-up points via hose and pipe lines. The necessary conveying pressure is generated by compressed air-driven pumps.
A range of additional equipment is available to improve the processing properties of the paints, for example:
compressed air-driven agitators can be installed in the material tanks, double filter groups can be installed in the material lines
the material lines can be designed as circulation lines up to the material change valves
The pumps can be equipped with pressure compensation tanks to compensate the pressure surges.
The paint supply systems are operated and controlled exclusively with compressed air. The independent compressed air driven pump sucks the paint out of the material container. Via the pressure compensation tank and the control valve, the paint is filtered in the double filter groups. From the double filter group, the material enters the stainless steel pipe via a flexible hose line. The paint flows through the stainless steel pipe to the color change valve.
The color change valves are controlled pneumatically. Unused paint is returned to the material containers via a circulation line. When the color change valve is open, the coating flows to the material pressure regulator and from there to the automatic spray gun. The material pressure required at the automatic spray gun is set continuously at the material pressure regulator. The control is pneumatic.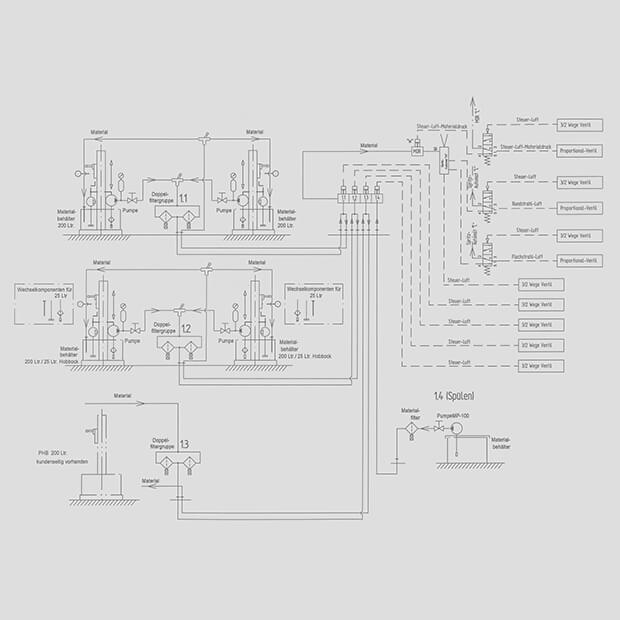 ---
---
Technical Center
In our modern technical center, all of the spraying processes we offer, as well as automated processes, can be realistically demonstrated and tested.
To the technical center
Products
Innovative products with state-of-the-art technology: spraying equipment, painting systems, material containers, lifting equipment, pumps, ventilation technology and accessories.
To the products
Contact
We support you with incomparable Krautzberger quality products, first-class complete systems and the development of individual solutions for your company.
Contact now
Your product request
Request your controller easily and conveniently by email. Fill out the following contact form and we will process your request immediately. We are looking forward to you.
---
There for you around the clock!
Are you seeking to improve your applications technically, modify the properties of your surfaces functionally or decoratively and optimise your processes? We support you with unrivalled quality Krautzberger products, first-class complete systems, and the development of individual solutions for your company.