Automatisches Farbversorgungs-System
---
Die Lackbevorratung erfolgt in 25 l oder 200 l Materialbehältern. Das System kann auch an anderen Behältergrößen angepasst werden.
Zum einfachen Wechseln der Materialgebinde ist die Gerätetechnik auf Hubeinrichtungen positioniert.
Die Lackförderung zu den Abnahmestellen erfolgt über Schlauch- und Rohrleitungen. Der notwendige Förderdruck wird durch druckluftbetriebene Pumpen erzeugt.
Zur Verbesserung der Verarbeitungseigenschaft der Lacke stehen eine Reihe von Zusatzausrüstungen zur Verfügung, so zum Beispiel:
in die Materialbehälter können druckluftbetriebene Rührwerke, in die Materialleitungen Doppelfiltergruppen eingebaut werden
die Materialleitungen können bis zu den Materialwechselventilen als Zirkulationsleitungen ausgelegt werden
die Pumpen können mit Druckausgleichsbehältern zur Kompensation der Druckstöße versehen werden
Die Farbversorgungs-Systeme werden ausschließlich mit Druckluft betrieben und angesteuert. Die selbständige druckluftbetriebene Pumpe saugt den Lack aus dem Materialbehälter. Über den Druckausgleichsbehälter und das Stellventil werden die Lacke in den Doppelfiltergruppen gefiltert. Von der Doppelfiltergruppe gelangt das Material über eine flexible Schlauchleitung in das Edelstahlrohr. Über die Edelstahlrohrleitung strömt der Lack zum Farbwechselventil.
Die Ansteuerung der Farbwechselventile erfolgt pneumatisch. Über eine Zirkulationsleitung wird nicht verwendeter Lack zurück in die Materialbehälter geführt. Bei geöffnetem Farbwechselventil strömen die Lacke zum Material-Druckregler und von dort zum Spritzautomaten. Der am Spritzautomaten gewünschte Materialdruck wird am Materialdruckregler stufenlos eingestellt. Die Ansteuerung erfolgt pneumatisch.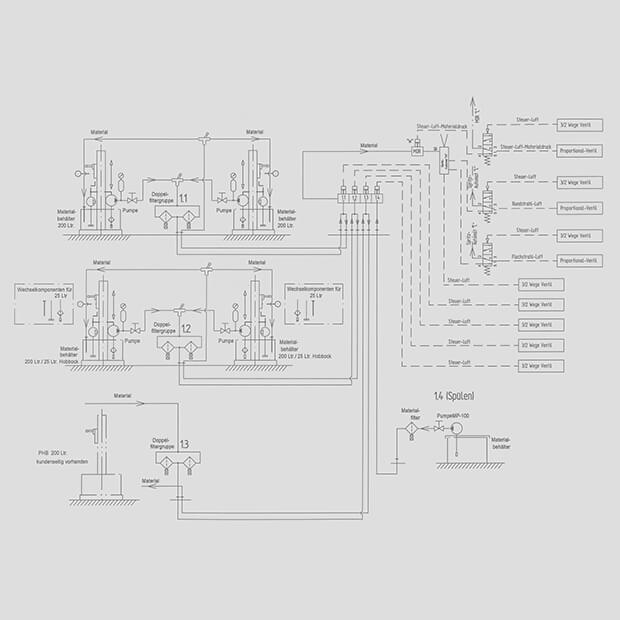 ---
---
Technical Center
In our modern technical center, all of the spraying processes we offer, as well as automated processes, can be realistically demonstrated and tested.
To the technical center
Products
Innovative products with state-of-the-art technology: spraying equipment, painting systems, material containers, lifting equipment, pumps, ventilation technology and accessories.
To the products
Contact
We support you with incomparable Krautzberger quality products, first-class complete systems and the development of individual solutions for your company.
Contact now
Your product request
Request your controller easily and conveniently by email. Fill out the following contact form and we will process your request immediately. We are looking forward to you.
---
There for you around the clock!
Are you seeking to improve your applications technically, modify the properties of your surfaces functionally or decoratively and optimise your processes? We support you with unrivalled quality Krautzberger products, first-class complete systems, and the development of individual solutions for your company.