Automatic paint feed system
---
Paint changeover can be effected manually or via pneumatic control of the paint changeover valves. During paint changeover, a rinsing process is performed to remove paint residues from pipes, valves and the spray gun.
The paint is stored in 25-litre or 200-litre material feed containers. The system can also be connected to other sizes of container.
The delivery system equipment is mounted on lifting devices to ensure easy changeover of material feed containers.
The paint is conveyed to the draw off points through hoses and pipes. The required delivery pressure is generated by compressed air pumps.
A number of add-on units are available to improve the processing properties of the paints. For example:
compressed air stirrers can be installed in the material feed containers, and double filter assemblies can be inserted in the material feed lines
the material lines can be designed as circulation lines up to the material changeover valves
the pumps can be fitted with pressure equalisation containers to balance out pressure surges
The paint feed systems are operated and controlled exclusively with compressed air. The independent compressed air pump extracts the paint from the material feed container, and the paint is conveyed via the pressure equalisation container and the actuator valve to the double filter assemblies, where it is filtered. The material then travels from the double filter assembly through a flexible hose line into the stainless steel pipe, and from there to the paint changeover valve.
The paint changeover valves are pneumatically controlled. Unused paint is routed back to the material feed containers via a circulation line. If the paint changeover valve is open, the paint flows to the material pressure regulator and from there to the automatic spray gun. The desired material pressure at the automatic spray gun can be variably adjusted on the material pressure regulator. The process is pneumatically controlled.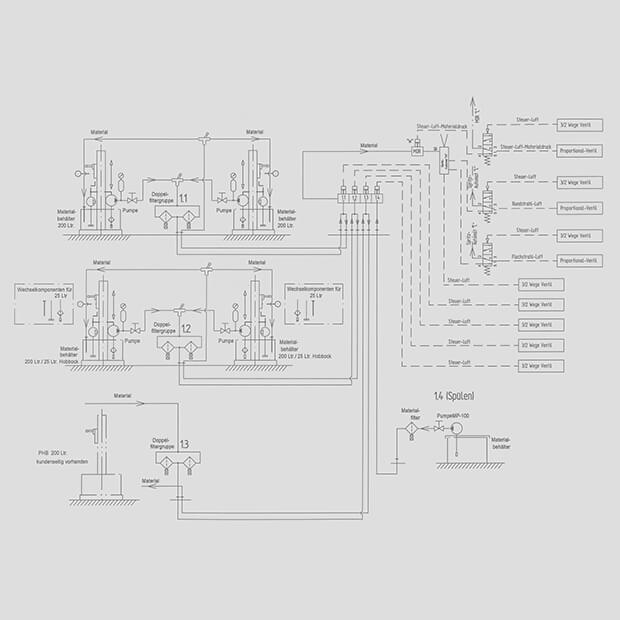 ---
---
There for you around the clock!
Are you seeking to improve your applications technically, modify the properties of your surfaces functionally or decoratively and optimise your processes? We support you with unrivalled quality Krautzberger products, first-class complete systems, and the development of individual solutions for your company.